The number of Beijing students sitting the gaokao, the national college entrance examination, will hit a record low this year.
北京学生今年参加大学入学考试的数量将创新低。
As of Dec 5, the deadline for applications, just 76,000 students had signed up to take the test, almost 6 percent down on 2010.
到12/5报名的最后期限,只有7.6万学生申请参加考试,比2010年低6%。
It is the fifth year in a row that numbers have fallen, and this year will mark the lowest ever attendance, said Gao Fuqin, deputy director of the Beijing Education Examination Authority (BEEA).
这是连续第5年人数下降,今年达到了新的最低点。北京教育考试学院副院长高说。
Education specialists attribute the popularity of studying abroad and a decline in the birth rate during the mid-1990s as the primary reasons for fewer youngsters seeking university education.
教育专家将原因归结在普遍的出国学习及20世纪90年代中期出生率的下降,因此主要原因是更少的年轻人寻求大学教育。
The number of applicants is expected to continue to drop in the next few years.
申请者的数量在未来几年中,有望继续下降。
Tian Yuan, a senior teacher with No 101 Middle School in Haidian district, told METRO that her school has a specialized class for students who do not want to take the gaokao and plan to study abroad instead, in which English courses and SAT (Scholastic Assessment Test) coaching are provided.
海淀区101中学高级教师田华对本栏讲,她的学校有一个专门的班级为那些不参加高考而准备出国的学生而设,在这个班级里,英语及学术评估考试将将门提供。
She said the class had about 20 students during the last school year and the number doubled this year.
她说,这个班级在上个常年有20左右个学生,今年其数量将加倍。
"In the beginning, only a few students chose not to sit the gaokao and to study abroad instead, now there are more and more," she said. "A very promising student of mine who would most likely score the school's highest points in the gaokao has received a number of offers from top universities in the United States and has decided to study at the University of California. I think it's a pity."
她说,开始时,只有很少学生选择不参加高考而出国留学,但现在人数越来越多。我的一个非常出色的学生非常有可能在高考中取得第一名,已经收到了来自美国一些大学的邀请,现已经决定去加利福尼亚大学学习,我想这是个遗憾。
Studying in a foreign country is becoming an increasingly popular choice for many high school students. Only 200 or so students in China took the SAT in 2002, by 2009 the number had risen to 15,000, according to China Education Daily.
根据中国教育日报的信息,在国外学习已经渐变成高中生普遍的选择。在2002年只有大约200名学生参加SAT考试,到2009年已经增长到15000人。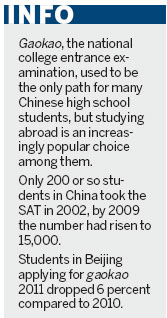 To accommodate this trend many other top middle schools have also introduced special classes for students who intend to study overseas, including No 4 and No 8 in Xicheng district and No 11 in Dongcheng district.
为了适应这种趋势,一些高等中学已经开设了专门的班级,专门对那些想在海外学习的学生,比如西城区第4第8中学,东城区11中学
Another reason the number of university applicants is decreasing is there are fewer senior high school students.
大学申请人数下降的另一个原因是高中生的数量正在下降。
Chen Wei, professor of demography at Renmin University of China, predicted that the number of 18-year-olds in Beijing will fall from a peak of 120,000 in 2009 to a low of 70,000 in 2020.
人民大学人口统计学教授陈预测,北京18岁年轻人的数量将从2009年12万的高峰下降到2020年的70000
This year, 100,400 people in Beijing will reach the age of 18, a decline of 12,000 than a year before.
今年,北京达到18岁的人口为10.04万人,比上一年下降了12000人
However, fewer attendees doesn't equate to less competition and an easier exam.
然而,减少的应试者不等同于竞争变少,考试简单
The difficulty of the national college examination will be more or less the same as previous years because a prototype to measure the exam's level of difficulty has been established, said Gao.
大学入学考试的难度将几乎于前些年相同,因为已经建立了一种模式去测试考试程度的难度。
"A dozen university professors and middle school teachers will get together to compose the exam questions and it will be reviewed several times to make sure it has the same level of difficulty every year," he said.
12名大学教授及中学教师将会聚集编写考试问题,而且试题将会几次评估以确保其难度同上一年相同。
Gao said this year's university enrollment rate will be around 48.5 percent and tertiary college enrollment rate will be around 39.5 percent, which is similar to previous years.
高说,今年大学的入取录大约在48.5%专科录取在39.5%左右,与去年接近。
China Daily